Every area and town are different, from the small-town celebrations to waterfront extravaganzas, we've got the scoop on where New Jersey's best options for family-friendly fireworks shows on July 4th are. Feeling lucky, you can cheer on the red, white and blue in Atlantic City, which has consistently hosted one of the country's biggest celebrations. Even better, you can spread out on the beach and enjoy the firework displays all the way down the shore. Choose from more than a dozen other great shows happening throughout the state.
In addition to fireworks, these July 4th celebrations include lots of other fun activities, such as parades, a Revolutionary War encampment, live music, and even a canoe race. Read on for 16 more great pics!
All fireworks displays will take place on July 4 unless otherwise noted. Check websites for rain dates.
North Jersey
Freedom and Fireworks Festival – Jersey City
With the Statue of Liberty as a backdrop, Jersey City will host a grand July 4th fireworks production over the Hudson River, expected to be the biggest in the state. The all-day event at Liberty State Park includes carnival rides, games, food, and a free, pre-fireworks concert. Crowds of more than 100,000 are expected for this patriotic party.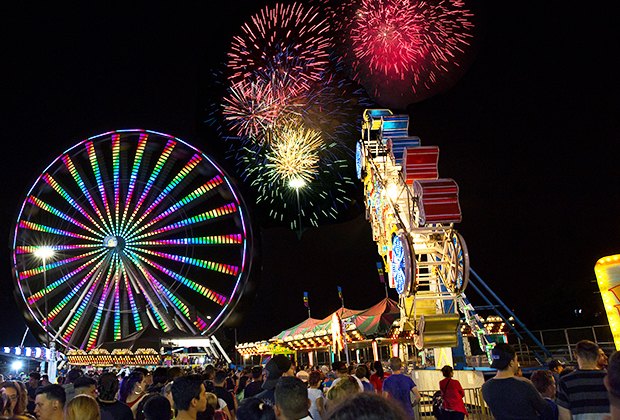 Photo courtesy of the New Jersey State Fair.
Fireworks at New Jersey State Fair – East Rutherford
Carnival rides, games, live entertainment, and tons of food are always major draws at New Jersey's biggest fair, and its two-night fireworks extravaganza is tops. Check the
website
for July 3 and 4 fireworks schedule and admission prices.
Veterans Field – Ridgewood
A morning parade honors American servicemen and women, followed by afternoon picnics and an evening celebration kicking off at 6 p.m. with three live bands and fireworks.
Central Jersey
North Branch Park – Bridgewater
Celebrate America with a Revolutionary War encampment in the park, followed by a picnic or vendor snacks and fireworks at nightfall.
Community Arts Center – East Brunswick
Live music, bounce houses, and food vendors are the highlights of this family-friendly event, capped off with fireworks.
Nomahegan Park – Cranford
This day-long family fun fest starts with morning canoe races and a Firecracker Four-Miler and fun run, followed by carnival food, games, and rides all afternoon. It culminates with the grand finale fireworks display at 9:15 p.m.
Soldiers Memorial Field – Summit
Food trucks galore, a children's bicycle parade, live entertainment, and carnival rides will keep everyone busy at Summit's Independence Day celebration. Fireworks begin at 9:15 p.m.
Jersey Shore
26th Annual Oceanfest – Long Branch
Catch one of the state's biggest Fourth of July festivals at the oceanfront Promenade between Seven Presidents Park and the Ocean Place Resort. Family-friendly festivities include dancers, musicians, clowns, carnival acts, food, crafts, and costumed characters. The fireworks finale begins at 9 p.m.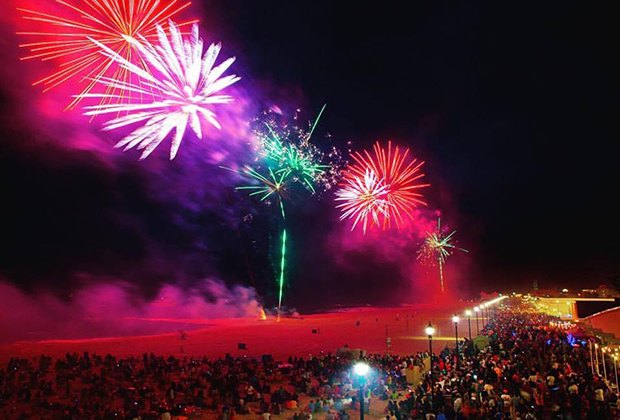 Photo courtesy of Asbury Park.
Boardwalk – Asbury Park
Spread out a beach blanket or find a spot on the boards for the city's spectacular fireworks show. Rain date July 7.
Jenkinson's Annual 4th of July Fireworks Spectacular – Point Pleasant
While Jenkinson's puts on a fireworks show every Thursday night in summer, its July 4th event promises to be even more spectacular. Fireworks begin at nightfall, around 9 p.m., and can be seen throughout Point Pleasant Beach. There's no admission to the beach, so bring a blanket and watch the show.
Oceanfront – Seaside Heights
This waterfront fireworks spectacular is visible from anywhere on the boardwalk.
Bay Village – Beach Haven
A spectacular fireworks display begins at dusk above this quaint shopping village, courtesy of the town's Red, White & Blue Committee.
Atlantic City Fireworks – Atlantic City
Boasting one of the largest July 4th celebrations in the country, Atlantic City is expected to draw more than 250,000 people to viewing areas along the boardwalk, beach, Steel Pier, and casinos. The fireworks display is so big, it takes two ocean barges and a marina platform to light up the sky.
Wildwood Fourth of July Fireworks, Concert and More – Wildwood
Fourth of July in the Wildwoods is chock-full of family-friendly activities. Daytime events include an Independence Day parade, Patriotic Pooch parade, Fourth of July Beach 'n Boardwalk Patriotic Run/Walk, and a Boardwalk Craft Show. In the evening, grab a blanket or beach chair and enjoy some free, pre-fireworks music. The pyrotechnics begin at 10 p.m. on the beach at Pine Avenue and will be visible from almost anywhere in the Wildwoods.
Congress Beach – Cape May
Take your pick between a free evening magic show at Convention Hall or a patriotic concert at Rotary Park Bandstand, then grab your chairs and blankets and head toward Congress Beach at Perry Street for a fireworks extravaganza above the ocean.
South Jersey
Camden Waterfront Freedom Festival – Camden
In honor of Independence Day, the Camden Waterfront boasts several family-fun activities, including military displays, Hippo Haven at Adventure Aquarium, demonstrations aboard Battleship New Jersey, and musical performances. Fireworks light up the Delaware in the biggest display in South Jersey.
Source : MommyPoppins.com